ROTTWEIL GOLD HV SERIE
Rottweil HV have been the epitome of high-velocity competition shot shells for years thanks to their consistent high quality. With its new GOLD HV series, Rottweil achieves a new level of quality. In close cooperation with the successful cadre shooters of the German Shooting Federation (DSB), many components have been optimized: Pellets with greater breaking power, powder with less recoil, wads with optimized patterning at various impact ranges, and transparent cartridge cases that make all of this sophisticated technology visible. The GOLD HV doesn't just speak to the professional Olympic shooter – passionate competition and sporting clays shooters will profit from the improved characteristics of this sporting shot shell line as well.
Rottweil Special Skeet/Trap/Sport
More versatility for competitive shooters
Regardless of whether for competition or practice, the Special series always offers an economic alternative with its large choice of various shot weights with pellet sizes from 2.0 to 2.4 mm for all competition applications. Also available in 20 gauge.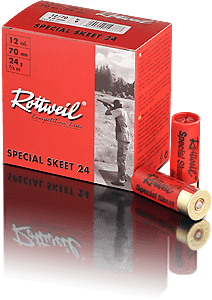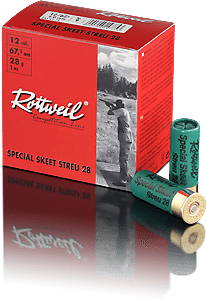 Rottweil Special Skeet Streu
Greater success for skeet shooters
Firing distances in 'hunter-style' skeet shooting are usually short and require a spreader insert to achieve significantly denser patterns than are available with Special Skeet. This spreader cartridge is also particularly suited to specific situations encountered during game shooting.